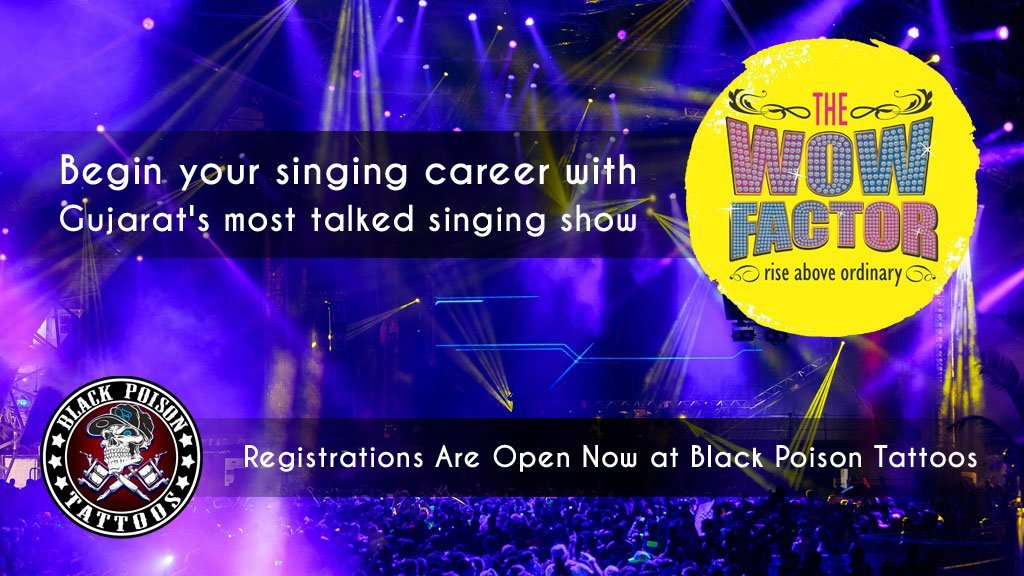 Begin your singing career with Gujarat's most talked about singing show, The WOW Factor. Get Ready to become the next heart-throb of the nation!
Impress the audience with your melodious voice and win lots of prizes.
Connect with the WOW factor to get a platform and WOW the audience with your brilliance. The WOW factor is a humble initiative encouraged by the most prestigious Eva Events. At WOW, we believe that all you need is an opportunity, and what you make out of it will make your mark.
About this Audition
The first round of audition will take place in Ahmedabad and we will be posting the dates soon. At WOW Factor, we have plethora of opportunities and pleasant surprises for the participants.
The selected ones would have a privilege to get guidance from professionals throughout the season and get a chance to reveal their tremendously melodious voice. Moreover, the winners along with finalized will be showered with cash prizes and a music video contract.
"Don't let your fear of losing overcome the pleasure of participating."
Prizes – Juniors
Winner: INR 1,00,000/- + Music Video Contract
First Runner Up : INR 75,000/-
Second Runner Up : INR 50,000/-
Prizes – Seniors
Winner : INR 1,50,000/- + Music Video Contract
First Runner Up : INR 1,00,000/-
Second Runner Up : INR 75,000/-
Registration Fee
– For Junior category INR 600/- and for Senior category INR 900/-
– Registration fee is to find out truly passionate participants and to avoid irrelevant crowd at the venue
You can complete your registration at Black Poison Tattoos, Bodakdev, Ahmedabad. – www.blackpoisontattoos.com
Age categories for participants
– Junior category : Age group 6 – 16 (AS ON 1ST JAN 2016)
– Senior category : Age group Above 16 – 40 (AS ON 1ST JAN 2016)
There's a long way to get through but if you can take on the stage by storm, The WOW Factor crown will be absolutely yours.
For more details please visit: www.thewowfactor.co.in
#TheWowFactor #TheWowFactor2016 #TheWowFactorAudition #TheWowFactorAuditionAhmedabad #BlackPoisonTattoos #SingingCompetition #SingingContest