Colored Tattoos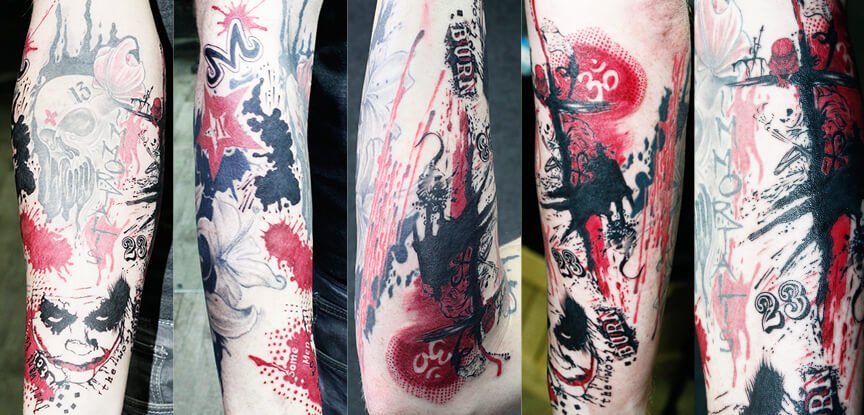 Colored Tattoos are very famous and have been known since a very long time. This art form of Colored Tattooing was popular with the sailors as early as the sixteenth century. In many parts of the world, colored tattoos still indicate rank and affiliation.
Colored Tattoos are not just famous among the teens. This form is such that it is liked and desired by the people of all age groups. Every tattoo artist cannot do these kinds of tattoos successfully. Max specializes in such tattoos & does an excellent colored tattoo. The art of making the colored tattoo is to have the basic color sense and think what color suits on whom and what should be the color blending technique.
Black and Grey Tattoos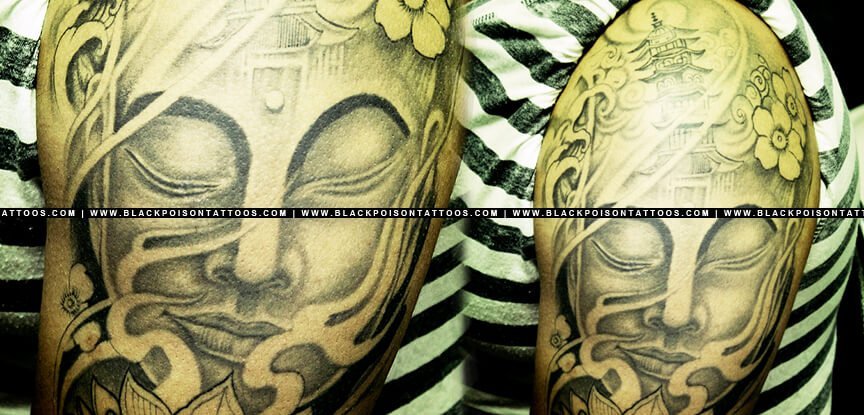 Black and Grey is a style of tattooing that uses only black ink in varying shades. Typically, black and gray tattoo work consists in using different shades of black. By diluting the black ink with distilled water in various proportions, creating a "wash", lighter shades can be produced. Although this is the popular method, some artists mix white ink with black, but it is not the traditional method.
Other things that need to be kept in mind are needle depth and speed. For a lighter shade, hand speed can be increased. After a tattoo has been completed with varying degrees of black, highlights are often added using white. White ink can also be used to smooth out sharp transitions between the different shades.
Black and Grey tattoos are generally believed to have originated within prison systems, where inmates had no access to colored ink. They perfected a single needle tattoo machine to produce highly realistic shading in their tattoo designs. This technique works well for portraiture.
Black Tattoos
Black Poison Tattoo Studio offers greatest Black Tattoo Art and Tattoo Designs. Black Tattoo is a style dedicated to the singular use of black ink. A tattoo is a form of body modification, made by inserting indelible ink into the dermis layer of the skin to change the pigment. Humans have marked their bodies with tattoos for thousands of years. These permanent designs sometimes plain, sometimes elaborate, always personal have served as amulets, status symbols, declarations of love, signs of religious beliefs, adornments and even forms of punishment.
Cover Up Tattoos
Some bad tattoos are restorable to a proper version of the original plan and these are known as reworks, but the majority are usually only savable through cover-ups and you may be limited on the choice of design. A tattoo Cover-Up is one of two options for dealing with an unwanted tattoo, the other being removal. Covering up an unwanted tattoo is the cheaper option. Cover-ups may completely hide the old tattoo with a new design, or may incorporate elements or the whole of the existing tattoo. Poorly applied, very faded or very light tattoos are the easiest to cover.
Tattoo Cover Ups are a great way to get rid of the unwanted tattoos on your body. It not only hides your older tattoo, but if made after enough thought and creativity, can turn out to be a transformed beauty piece. However, the best option will always remain to THINK BEFORE YOU INK, but if you have already gotten a wrong tattoo, consider a thoughtful cover up. The list below shows some awesome, some witty and some crazy cover up ideas to tickle you thought streak.
Temporary Tattoos
Temporay tattoos are not just for kids anymore! These temporary tattoos make a fun addition to any event or occasion. Choose from a variety of different designs to get the right look and style.
Airbrush temporary tattoos are sprayed on by an artist using a stencil with alcohol-based FDA approved cosmetic inks. Airbrush temporary tattoos are also easily removed with rubbing alcohol or baby oil.